Black Cap Signature shades
Our Signature Series shades are available for order in 16 stunning colors.  The black cap style can be done with a crystal clear base or you can choose a color.  The lower portion of the shades are decorated with black frit (crushed glass) and black Stringers (glass strings). The frit is fused in a tack fuse, allowing deep texturing.  A unique feature of the Signature Series, is that the cap is placed so that the points of cap line up with the folds of the body.  The black cap allows zero visibility of the socket and bulb.  These shades have a much deeper tone with the colored background, allowing the same amount of light out the bottom, but not as much ambient light from the sides.   
Signature series shades are approximately 7.5" tall and 7.5" wide.
All shades are handmade and while no two can ever be identical the shades are made to match in style and color - even if you order them weeks, months or even years apart! Our shades are much thicker than other "off the shelf" shades making them more durable as well as providing and added depth to the color. All shades undergo an annealing process which results in an extra strong and durable glass.
BULBS:  Bulbs are not included. All fixtures we supply use a standard E26 medium base bulb. All shades can be used with incandescent or Halogen bulbs up to 100 Watt or any intensity of LED or CFL type bulb. The type and intensity/wattage of the bulb will have dramatic impact on the effects of color, light dispersion, ambiance and so on. We generally recommend a bulb of 60 Watts/800 Lumens for most applications but you may want to experiment and find the one that best suits your taste once you have hung your lights.
Shade may be purchased separately or with fixtures.

TO ORDER SHADES ONLY (using your existing fixtures):
To purchase just a shade select your color/s and quantities. Shade will mount to any fixtures using the "Nord" ring (Retaining ring on threaded socket) mounting and which use the standard E27 medium base bulb. 
Our shades come standard with a 1 5/8" hole. If you are replacing shades and need a smaller hole - such as candelabra (E12) style bulbs - please let us know at time of order. Your best bet is to measure the hole diameter on the shade you are replacing.
Shade may be purchased separately or with fixtures.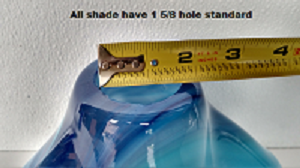 TO ORDER SHADES AND FIXTURES:
Select your shade color/s. Shades in a particular series i.e. "Silky", "Signature", "Capri" will all have the same physical design. If you are ordering more than 1 shade you can order in the same color or - get wild - and order in multiple colors thought we do not recommend mixing shades of different series.
Select your fixture. Fixtures are available in single and multiple styles along with wall mount styles such as sconces and Bathroom style lighting. You will need to order equivalent number of shades as fixture is designed for i.e. if you order a single pendant you would need a single shade but if you order the Europa  #28-BRZ triple pendant you will need to order 3 shades for that fixture.