Screen Melt Series shades
Screen melt shades are very unique and no two look alike.  They can be done on a crystal clear base to allow more ambient light through the sides or with a colored base giving them a deeper color tone.  The process that is used allows a one of a kind, swirled design, that is unavailable in standard sheet glass form.  They are made with a background of clear or a color of your choice  and then you choose 2-4 colors to be added to the design.  Along with many of the standard colors, black and white may be added.  Keep in mind that black and white are opaque and will affect the ambient light from the sides.   This screen melt process, can leave a slightly textured outer finish along with imperfections caused by the screen.  
 Note:  Reds and oranges not available for this process
The process that is used is called screen melt, as you place a mesh screen about 2-4" above the base glass, and add the chosen colors on top of the screen.  As the glass gets to 1600 degrees, the colors run through the mesh screen and combine to make it's very own design each time.  As more glass runs through the screen, it forces the colors towards the edges. 
This style shade ends up thicker and heavier than most other shades.  These shades are fired a minimum of 3 times, sometimes more.    
If ordering this style, I will contact you to discuss color combinations.  
Approximate height is 7" x 8-10 wide.  Because the glass is thicker, you will get larger rounded folds.  
All shades are handmade and while no two can ever be identical the shades are made to match in style and color - even if you order them weeks, months or even years apart! Our shades are much thicker than other "off the shelf" shades making them more durable as well as providing and added depth to the color. All shades undergo an annealing process which results in an extra strong and durable glass.
BULBS:  Bulbs are not included. All fixtures we supply use a standard E26 medium base bulb. All shades can be used with incandescent or Halogen bulbs up to 100 Watt or any intensity of LED or CFL type bulb. The type and intensity/wattage of the bulb will have dramatic impact on the effects of color, light dispersion, ambiance and so on. We generally recommend a bulb of 60 Watts/800 Lumens for most applications but you may want to experiment and find the one that best suits your taste once you have hung your lights.
Shade may be purchased separately or with fixtures.

TO ORDER SHADES ONLY (using your existing fixtures):

To purchase just a shade select your color/s and quantities. Shade will mount to any fixtures using the "Nord" ring (Retaining ring on threaded socket) mounting and which use the standard E27 medium base bulb. 
Our shades come standard with a 1 5/8" hole. If you are replacing shades and need a smaller hole - such as candelabra (E12) style bulbs - please let us know at time of order. Your best bet is to measure the hole diameter on the shade you are replacing.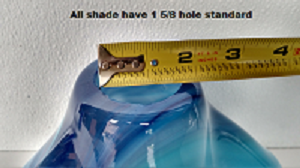 TO ORDER SHADES AND FIXTURES:
Select your shade color/s. Shades in a particular series i.e. "Silky", "Signature", "Capri" will all have the same physical design. If you are ordering more than 1 shade you can order in the same color or - get wild - and order in multiple colors thought we do not recommend mixing shades of different series.
Select your fixture. Fixtures are available in single and multiple styles along with wall mount styles such as sconces and Bathroom style lighting. You will need to order equivalent number of shades as fixture is designed for i.e. if you order a single pendant you would need a single shade but if you order the Europa  #28-BRZ triple pendant you will need to order 3 shades for that fixture.